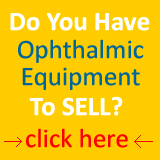 AB-Scan + UBM + Pachymeter
A-Scan probe connection
B-Scan probe connection
UBM probe connection
Pachymeter probe connection
Weight: 7 lbs.
Dimensions: 15"W x 2"D x 11"H
Touch screen
Integrated DICOMSM worklist modality
External connections HDMI and ethernet
5 USB ports
A-Scan Module
The A-Scan probe is 0.08 ounces with a length of 1.75" and width of 0.2". It has an electronic resolution of 0.016mm, a clinical Accuracy of 0.1mm and 10MHz frequency. It can run in immersion or contact measurement mode.
B-Scan Module
The B-Scan probe weighs 6 ounces and is 7" long by 1.25" wide. It has an axial resolution of 0.015mm and lateral resolution of
0.085 mm. It can run at 12 or 15MHz.
UBM Module
The UBM probe weighs just 6 ounces and measures 7" in length and 1.25" in diameter. It has an axial resolution of 0.015mm, a lateral resolution of 0.05mm and runs at 48MHz. It has guarded and unguarded options available.
Pachymeter Module
The Pachymeter probe weighs 0.67 ounces, is 1.75" long x 0.2" wide, with an accuracy of ±5μ and a sample Rate of 65MHz. Measurement range is 300-999μ, and it has automated IOP adjustment.
Accutome A&B Scan + UBM + Pachymeter




A-Scan

B- Scan

Pachymeter

UBM
*Only non-USA orders
Please click on the link with the product you are interested or subscribe to our newsletter to receive special promotions.
---

---
We accept all major credit cards
Phone: (305) 781 3117
Optivision2020, Inc. and Integral Medical Solutions Inc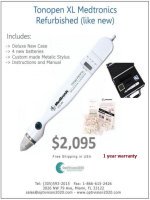 Refurbished Tonopen
Click to Zoom!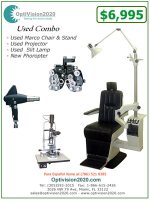 Used Marco combo
90 days warranty
Contact us Now