i
AScan Tomey AL 100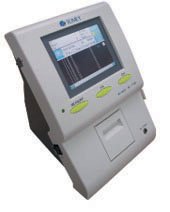 The A-Scan Tomey AL 100 Capture critical eye measurements simply and easily.

• Measures axial length and calculates I0L power
• Axial length measurement with waveform display
• Easy-to-use touch-screen
• Automatic tone-assisted measurement
• Built-in printer
• Compact and lightweight
• Contact or Immersion modes
• Optional memory card

Measure in A-Scan AL 100 axial length quickly and easily The AL 100 is designed for fast, simple operation. Tone-assisted measurement notifies the operator when the probe is aligned and measurements recorded.
The A-Scan Tomey AL 100 takes up to 15 readings, and displays and averages the best ten (10) readings for use in the IOL calculation. The AL-100 measures axial lengths from 15-40 mm with an accuracy of ±0.1 mm and a resolution of 0.01 mm. Eye modes include Normal, Aphakic, Pseudophakic and Dense cataract. Measurements may be acquired automatically or manually and in Contact or Immersion modes.
IOL power calculations for A-Scan Tomey AL 100
The Tomey AL 100 calculates IOL power with a vast array of formulas: SRK II, SRK/T, Holladay, Haigis Standard, Haigis Optimized, and Showa. Other formulas may be added as well.
The A-Scan Tomey AL 100 can display up to two lens constants and the corresponding IOL powers. Up to 10 lenses and lens constants can also be stored for use (along with the corresponding Surgeon Factor, SF).


Data storage and output for A-Scan Tomey AL 100
Entering patient and lens data is simple and direct with the large, easy-to-read touch screen. No more small or unattached keypads to make data entry a chore. The A-Scan AL 100 also stores up to six patients in its internal memory and up to 240 patients in the optional 512Kb PC memory card.
The A-Scan Tomey AL 100 also has an integral printer, which can print either a standard waveform and IOL calculation, for both eyes, or a more complete printout with all of the measured and calculated data, for both eyes.
Contact us for Price
If you need more information regarding the
A-Scan Tomey Al 100
please fill the form and specify the model in the Comments Field.
*Only non-usa orders
Are you done with the A-Scan Tomey AL 100? Go to A-Scan.

---
We accept all major credit cards
Phone: (305) 781 3117
Optivision2020, Inc. and Integral Medical Solutions Inc