Human Eye Model Astigmatism
# 15123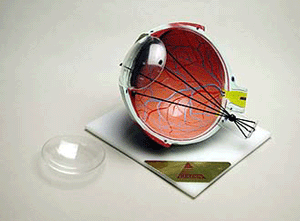 This human eye model astigmatism is for patient education in astigmatism, myopia and hyperopia - or refractive error. The eye Model Astigmatism Myopia/Hyperopia Model dynamically demonstrates how the focal length of the eye is changed by lens correction for better acuity. The two chords realistically simulate both a myopic or hyperopic foci.
Many patients find current explanations about how and why the eye focuses, difficult to understand and may be apprehensive about lenses whose function they don't comprehend.
The human eye model astigmatism also shows a cross section of the eye in three layers; the retina, choroid, the sclera with veins and arteries, interior and exterior, including central retinal. It is made of plastic, measures six (6) inches in diameter, and is mounted on a white, opaque plastic base. It is realistically colored and textured and the cornea, optic nerve, and insertion of muscle are shown.
The human eye model astigmatism provides the opportunity to ease patient uncertainty. Quick and easy to use, this unique model will save the doctor or technician time.
Price for Human Eye Model Astigmatism
If you need more information regarding the
Human Eye Model Astigmatism
please fill the form and specify the Model Astigmatism in the Comments Field.
Are you done with the Human eye model Astigmatism ? Go to Human eye model.

---
We accept all major credit cards
Phone: (305) 781 3117
Optivision2020, Inc. and Integral Medical Solutions Inc