Human Eye Model Cataract
#15129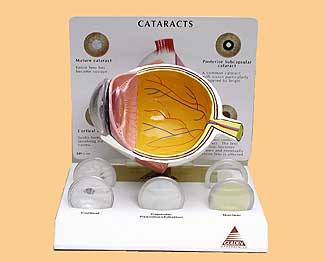 The Human Eye Model Cataract is made of hard, durable plastic and measures 3 3/4 inches in diameter, mounted on a plastic base. Included are five interchangable lenses that show various types of cataract conditions including subcapsular, capsular, mature, cortical, and nuclear. These lenses are 1 3/4 inches in diameter. The human eye model cataract is realistically colored and textured, and is designed primarrily for patien education in cataract surgery.
Many patients find current explanations about cataracts difficult to follow and may be apprehensive about procedures or conditions they don't understand. This unique model of the human eye allows the doctor of technician to quickly and completely familiarize the patient with cataract procedures.
In addition to ressuring the patient, the model also provides the the opportunity to demonstrate the negative effect on the patients vision and the positive effect of the contemplated surgery on the patient. Quick and easy to use, this model will save the doctor or technician time when explaining this difficult concept
Price for Human Eye Model cataract
If you need more information regarding the
Human Eye Model cataract
please fill the form and specify the Model cataract in the Comments Field.
Are you done with the Human eye model cataract ? Go to eye Model.

---
We accept all major credit cards
Phone: (305) 781 3117
Optivision2020, Inc. and Integral Medical Solutions Inc