Keratometer Reichert MK1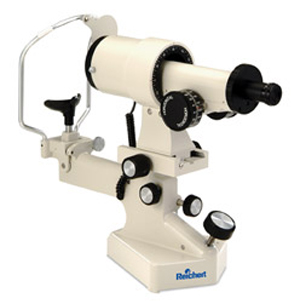 The Keratometer Reichert MK1 now utilizes LED technology to provide clear, consistent lighting, removing the need to ever change bulbs.
What we didn't change are all the great features that have made our Keratometer Reichert MK1 the worldwide instrument of choice by discerning practitioners for over fifty years.
*Both major and minor meridians can be measured once major axis is located
*Accurate measurement of corneal curvatures
*Measures concave surfaces for contact lens fitting
*Requires no patient response or judgement
*Easy elevation and lowering allows quick patient positioning
*Coincidence focusing system
*Engraved focusing scale on eyepiece
*Dual eye level sighting for vertical measurement
*Single position measurement in both meridians
*Dial readings are shown in both diopters and millimeters for maximum convenience, covering both corneal and contact lens measurement
*Clear, uniform illuminated mires
*Accurate to .012D from 36D to 52D
*Engraved focusing scale on eyepiece
Contact us for Price
If you need more information regarding the
Keratometer Reichert MK1
please fill the form and specify the model in the Comments Field.
Are you done with the Keratometer Reichert mk1? Go to Keratometers.

---
We accept all major credit cards
Phone: (305) 781 3117
Optivision2020, Inc. and Integral Medical Solutions Inc