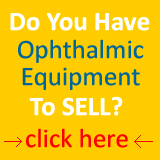 Occluders
(Please scroll down for our products)
Molded from strong, lightweight ABS plastic, Gulden Occluders use state of the art bonding techniques to insure greater durability and have an easy cleaning gloss finish. Gulden Occluders are available in black or white, have a standard length of 25 cm, and are cupped to a 70mm radius
.

One end of the occluder contains fixation targets (one letter and one symbol .6m, .8m, 1.0m, 1.6m plus 2.0m and 2.5m letters) on a rotary thumbwheel, which also serves as an occluder. The occluder's handle contains a PD rule, Palpebral scale, and corneal scale. The other end of the occluder contains the red lens and Maddox rod, together with Gulden's new and improved 1mm and 1.3mm multiple pinhole tests. Both multi-pinhole tests are designed with counter-sunk holes that reduce hole thickness to a thin edge. The improved target clarity of these instruments provides easy patient alignment. The 1mm pinhole on these instruments allows for routine acuity testing, while the 1.3mm pinhole is for reduced vision / suspect decreases retinal illumination.
Patient performance during acuity testing is reduced by suppression due to retinal rivalry of the occluded eye. While white Occluders are designed to prevent this, an even better solution has been found in Spielmann.
With a lightweight molded black ABS plastic handle, these have a lens made of a lightly frosted, scratch resistant acrylic that degrades the acuity of the non-tested eye while not inducing suppression effects. The reading eye is thus tested with an absolute minimum of interference from the fellow eye.
The examiner is also able to see the non-tested eye through the frosting on the Occluders, making cover testing more reliable and informative. Using these Occluders, the examiner can see the movement of the covered as well as the uncovered eye and can see if the patient is "squinting" under the paddle during testing.
Please click on the link with the product you are interested or subscribe to our newsletter to receive special promotions.
---
Optivision2020, Inc.
4995 NW 79 Ave, Suite #108
Miami, FL 33166
Phone: (305)593-2015 - Fax: (305) 593-2016
Toll Free: 1 877 593 2015
Hablamos Español
---
---

---
We accept all major credit cards
Phone: (305) 781 3117
Optivision2020, Inc. and Integral Medical Solutions Inc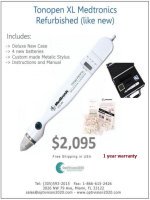 Refurbished Tonopen
Click to Zoom!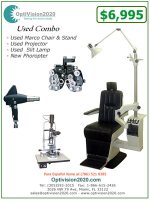 Used Marco combo
90 days warranty
Contact us Now