Phoropter
Topcon VT-10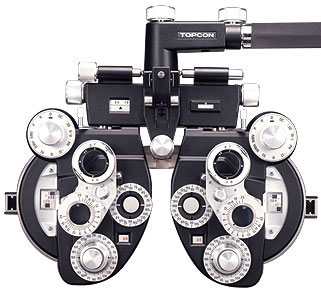 Precision and convenience are a tradition in high quality TOPCON optical instruments. The Phoropter Topcon VT-10 advances this tradition still further, making refraction quicker and easier than ever before, providing unequaled performance and exceptional versatility. Precision in design and workmanship guarantees accuracy in refraction measurements-accuracy that won't deteriorate even after long years of use.
Total quality from TOPCON means you can have total confidence in the performance you'll enjoy from the Phoropter Topcon VT-10.
Features
- Wide Testing Range
The testing range available with the Phoropter Topcon VT-10 is extraordinary, the standard cylinder power range extends to 6,000 in 0.25D increments. In addition, auxiliary lens sets are incorporated to fine-tune cylinder power measurements to 0.12D increments or extend cylinder power range to 8.00D. Accurate prism reading even below 0.5 prism are possible thanks to the 20 prism range (1 prism increments) of the precision-geared rotary prism loupes. The Phoropter Topcon VT-10 is also available in plus or minus cylinder models.
- Synchronized Cross-Cylinders
The most significant time-saving feature of the Phoropter Topcon VT-10 is its synchronization of cross-cylinder loupe rotation to cylinder axis adjustment. Special gearing automatically synchronizes the rotation of the loupe each time you change cylinder axis correction. The result? You simply read a single scale, one time, after completing a full series of axis checks. The bi-loupe turret lets you index power or axis loupes with a single touch.
- Easy Controls & Clear Scales
Control of cylinder axis and power testing is amazingly simple; concentric control knobs within a double-calibration axis scale make adjustment a quick, one hand action through the full 360° range. The axis scale reads in 5° increments, with 15° markings. An additional axis scale is located at the main aperture, for convenient reference during retinoscopy. The low position of the control knobs keeps the operator's hands out of the line of vision.
- Versatile Adjustments
Convenient dual controls make it easy for the operator to adjust interpupillary distance, in a range from 48 mm to 75 mm. The mechanism is sealed for protection and smooth functioning. An easy-to-read scale provides 1 mm graduations, and a vergence adjustment controls reductions in P.D. during near testing.
- Wide range of Versatile Auxiliary Lenses
The Phoropter Topcon VT-10 comes with a full complement of versatile auxiliary lenses - 10 different lenses plus two open apertures, any of which can be indexed into position with one-touch speed and convenience. A red lens / green lens shift, for example, is immediately available for binocular vision testing . The auxiliary lens plate has a flat black finish to prevent stray reflections during use.
- Fast, Precise Results
Phoropter Topcon VT-10 incorporates a single-dial power control that lets the operator quickly dial in any spherical power from +16.75D through 0 to -19.00D, in 0.25D increments. To make settings faster, a strong sphere control allows adjustment in 3.00D steps; the auxiliary lens knob provides for fine-tuning in 0.12D increments for absolute accuracy.
- Multi-coated lenses for superior Optical Performance
Every lens used in the Phoropter Topcon VT-10 receives a special multi-coating that eliminates flare, ghost images and reflections. In addition, the multi-coating assures clearer, brighter images with improved contrast and excellent color fidelity.
Type:
Subjective refraction testing equipment

Item and range of measurement:

The value in ( ) is with accessory lens or auxiliary lens attached:

Myopia:

0 to –19.00D in 0.25D step (0.12D step)

Hyperopia:

0 to +16.75D in 0.25D step (0.12D step)

Astigmatism:

0 to –6.00D (-8.00D) in 0.25D step (0.12D step)
Cross-Cylinder:
± 0.25D (± 0.37D and ± 0.50D as option)
Phoria and vergency:
20 to 0 to 20 by 1 step
Inner 40
Outer 40 (50)
Upward and downward 40 (46 )

Near vision test:
Main optical axes of both lenses converges by means of a tilt mechanism at 40 cm in front of the eyes at 64mm P.D. If P.D. for far vision is less than 54 mm, converging operation stops.
Binocular balance test:
Rotary prism and polarizing lens methods are available.
P.D.:
48 to 75mm by 1mm step
Level adjustment:
More than 4.5° for right and left banks
Dimensions:
335 (at 64mm P.D. setting) x97 x 294mm
Weight:
4.5kg
Content of auxiliary lens dial:
"0/0":
Open Aperture
"R":
Retinoscopic Lens: +1.50D standard +2.00D option
"P":
Polarizing Filter
"WMV/RMV":
Maddox Rod, vertical: white(left) red (right)
WMH/RMH":
Maddox Rod, horizontal: white(left) red (right)
"GL":
Green Lens (left)
"RL":
Red Lens (right)
"+12":
+0.12D Spherical
"PH":
Pin hole
"10 1":
10 Diopter Prism Base In (Left)
"6 U":
6 Diopter Prism Base Up (Right)
"+_ 50":
+_0.50D Fixed Cross Cylinder
"OC":
Occluder
If you need more information regarding the
Phoropter Topcon VT-10
please fill the form and specify the model in the Comments Field.

*Only non-USA orders
Are you done with the Phoropter topcon VT-10 ? Go to Phoropters.

---
We accept all major credit cards
Phone: (305) 781 3117
Optivision2020, Inc. and Integral Medical Solutions Inc