Plastic Prism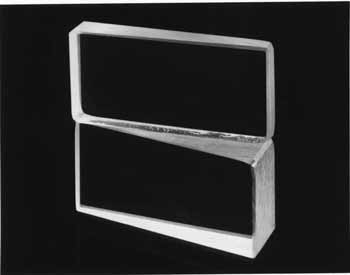 Use plastic prism bars for the clinical measurement of a patient's fusional vergence ability. Vergence movements are the separate rotational movements of the eyes. They measure the degree of divergence from binocular vision.
Features and Advantages
Gulden Ophthalmics cristals ave been re-engineered to solve the problem of birefringence. Our exclusive manufacturing process greatly reduces optical strain, producing a product that virtually eliminate clinical birefringent effects.
Our prisms bars are constructed of extremely high quality materials, which are optically clear with an index refraction of 1.49 and light transmission value of 92%.
Our plastic prism bars are available in various horizontal or vertical configurations, as well as a combination horizontal/vertical plastic prism bar. There are also a various diopter or degree ranges and sizes.
Our prisms are available in our standard square shape (37 X 37 mm), or in our internationally popular "universal" shape, which has two rounded corners for ease of use at various angles.
Our combination prism bars help with more accurate diagnosis
Gulden's combination horizontal vertical plastic prism bar addresses a problem that can occur when using two plastic prisms simultaneously to measure ocular deviation.

The deviation neutralized by a plastic prism bar can vary depending on how is held with respect to the patient's line of sight. Errors can occur if they are not held in the position for which they are calibrated. When horizontal and vertical bars are used simultaneously in front of the same eye, they are customarily held back-to-back reversing the rear plastic prism bar from its usual position and resulting in an erroneous measurement.
Gulden's Combination bar resolves the problem by having the horizontal bar slide up and down in a channel affixed to the vertical bar. This ensures that the flat surfaces of both bars are held perpendicular to the direction of the fixation object.
The vertical plastic prism bar is calibrated in the Prentice position, and the horizontal bar is calibrated in the frontal plane position. Primary and secondary deviations can be measured when the Gulden combination bar is used in front of one eye with the vertical plastic prism bar closest to the patient.
Plastic Prisms

#11110
B-10 Vertical

$90

#11113
B-12 Vertical

$95

#11116
B-16 Horizontal

$105

#11314
BV-15 & B-16 Set

$198

#11117
BV-15 Vertical

$105

#11315
LB-14 & LB-15 Sets

$300

#11111
LB-14 Large Vert.

$155
Are you done with the Plastic Prism ? Go to Home Page

---
We accept all major credit cards
Phone: (305) 781 3117
Optivision2020, Inc. and Integral Medical Solutions Inc

---
We accept all major credit cards
Phone: (305) 781 3117
Optivision2020, Inc. and Integral Medical Solutions Inc