Slit Lamp Haag Streit BD 900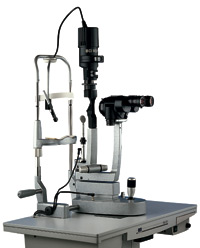 The BD 900 is optimized for the optician, optometrist, contact lens practitioners and ophthalmologists specializing in the anterior segment. It is also ideal for emergency rooms. Standard magnification is 10 and 16 X times- through the flip of a lever placed just beneath the microscope.
A video port is included with the BD 900. The image is diverted to the camera by means of a small prism permanently placed within the microscope.
The video port on the BD 900® accepts a small C-Mount camera.
Yellow filter capability for good contrast enhancement when using Fluorescence, simply turn the filter positioned at the front of the microscope.
A Blue filter can be engaged through a lever near the lamp housing.
The BD 900 features a smooth to operate instrument base with a continuously adjustable illumination control conveniently sited next to the joystick.
Illumination
With a single support column the BD 900 allows optimal access to the patient. The halogen bulb gives up to 300,000 Lux illuminations. The slit lamp adjusts from 0-14 mm. UV and IR filters are built-in and blue, red and grey filters can be introduced as needed.

For Export Only - non USA
If you need more information regarding the
Slit Lamp Haag Streit BD 900
please fill the form and specify the model in the Comments Field.
Are you done with the Slit Lamp Haag Streit BD 900? Go to Slit Lamp Home.

---
We accept all major credit cards
Phone: (305) 781 3117
Optivision2020, Inc. and Integral Medical Solutions Inc