Slit Lamp Haag Streit BP 900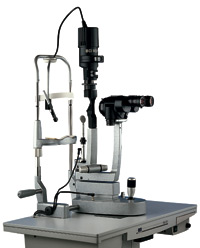 Digital Video Imaging

- Three magnifications and imaging capabilities.
- Designed for routine practice, the BP 900 has a redesigned optical system.
- The knob on the power supply controls the continous illumination of the bulb, ideal for imaging.
- An optical beam splitter allows the attachment of the CM 900 Digital Camera Module.
Magnification Changer
Change between 10, 16 and 25 X magnification by means of a simple control on the side of the microscope.
Beam Splitter
The optional beam splitter directs 70% of the reflected light from the image to the camera.
Joystick with Illumination Control
A push button on the top of the joystick, unique to the BP 900, allows for the control of illumination levels.

Call us for Price Slit Lamp
For Export Only - non USA
If you need more information regarding the
Slit Lamp Haag Streit BP 900
please fill the form and specify the model in the Comments Field.
Are you done with the Slit Lamp Haag Streit BP 900? Go to Slit Lamp Home.

---
We accept all major credit cards
Phone: (305) 781 3117
Optivision2020, Inc. and Integral Medical Solutions Inc