Digital Slit Lamp SL-8U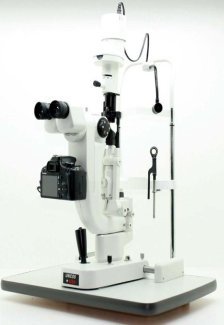 Specification
• German made optics, high resolution
• Professional quality photos
• Joystick photo button
• Build in back ground illumination
• Build in beam splitter and Digital photo adaptor
• Complete set included 12.4 megapixel camera
• Drum magnification 5 Steps
• Easily capture sharp digital photos anterior and Posterior segment:
cornea,sclera, iris, lens,retina, etc
The Viewlight CSL-8U Digital System includes:
Slit Lamp Viewlight CSL-8U
Camera Canon Rebel XSi (SLR 12.2 mpx)
Software for Photo Management Canon
Power adapter for Canon Rebel
Memory Card 8 GB
Electric Table
Camera parameters are setup, so you don't have to figure out the correct settings.
The electric table is shipped with the setup for the Slit Lamp SL-7.
Optional
• Applanation tonometer
• Digital Photographic lens
If you want more information about this slit lamp digital system click here
---
If you are just starting your practice or looking for a more economic option for digital phography we have the CSL-7D Digital System. Click here for more information
---
Call us now at (305) 731-2020 for price
and further inquiries.
(Se Habla Español)

---
We accept all major credit cards
Phone: (305) 781 3117
Fax: 1.866.615.2426
Optivision2020, Inc.