Phoropter Reichert RX Master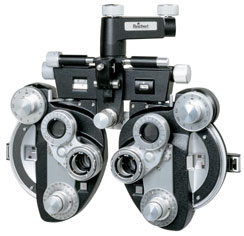 The Phoropter Reichert RX Master, designed and constructed to provide years of reliable service, gives the professional distinctive features that measurably improve procedures- useful features like the time-saving synchronized cross cylinder that automatically rotates to the corresponding axis, and Ful-Vue convergence that provides the widest field of view for increased accuracy.
This phoropter reichert RX Master is the latest in a series of Reichert refracting instruments that began with the invention of the Phoropter instrument. It incorporates refinements that represent more than 70 years of experience in working with doctors and thousands of instruments installed. It embodies the characteristics that doctors need and want most, including accuracy, speed, ease, patient comfort, and reliability.

Features for phoropter reichert RX Master
Typical Reichert reliability
The Ultramatic Phoropter Reichert RX Master is engineered and built to the high standards that have made Reichert refracting instruments famous for longevity during the past 70 years. Corrosion-resistant materials, precision machining, skilled workmanship, rigid inspection, "life testing", and Reichert service mean that the Ultramatic RX Master will provide dependable long-term performance.

Unique, synchronized cross cylinder saves time by simplifying a cumbersome procedure
Consider the number of cross cylinder axis settings you make during a typical refraction, and the time they cost you. The Ultramatic RX Master eliminates these settings to streamline your procedure and save valuable time. When you change cylinder axis, the cross cylinder automatically rotates to a corresponding axis. You read a single scale once at the conclusion of the test.

Ful-Vue convergence provideds the widest field of view for maximum accuracy
Completely overlapping fields during near testing mean precision measurement. With the flip of two levers, the entire optical system is converged.
Convergence combines with the large main aperture to provide the widest binocular field of view of any refracting instrument. The patient looks through the optical centers of the instrument lens system, insuring completely overlapping fields. The ultimate in clinical accuracy


More helpful features that increase accuracy, speed, and ease
Choice of minus or plus system. The cylinder axis control is concentric with the cylinder power knob. The control knob rotates a full 360 degrees and is surrounded by the axis scale. An axis reference scale at the main aperture speeds retinoscopy.
Convenient P.D. adjustment. Simply turn a knob on either side for velvet smooth adjustment. The easy-to-read scale is in 1 mm graduations.

Specifications Range for phoropter reichert rx master
Sphere -19.00D to + 16.75D
Cylinder Power 0.00D to 6.00D
Cylinder Axis° 360° (Double 0°-180° scale)
Cross Cylinder ± 0.25
Prism 0 to 20
P.D. 48mm to 75mm
Vertex Distance 13.75mm (normal)
Reading Distance 5" to 28"
Auxiliary Dial 10 lenses plus 2 open apertures
Contact us for Price*
If you need more information regarding the
Phoropter reichert rx master
please fill the form and specify the model in the Comments Field.
*non-USA orders only
Are you done with the Phoropter Reichert RX master ? Go to Phoropters.

---
We accept all major credit cards
Phone: (305) 781 3117
Fax: 1.866.615.2426
Optivision2020, Inc.