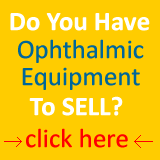 Slit Lamp
(Please scroll down for our products)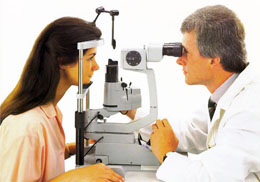 The slit lamp is an ophthalmic equipment consisting of a high-intensity light source that can be focused to shine as a slit. It is used with a biomicroscope, an optical instrument similar to a regular microscope, but with two eyepieces. The lamp facilitates an examination which looks at anterior segment, or frontal structures, of the human eye, which includes the eyelid, sclera, conjunctiva, iris, natural crystalline lens, and cornea.
While a patient is seated in the examination chair, he rests his chin and forehead on a support in the slit lamp to steady the head. Using the biomicroscope, the optometrist then proceeds to examine the patient's eye. A fine strip of paper, stained with fluorescein, an orange-colored dye, may be touched to the side of the eye; this stains the tear film on the surface of the eye to aid examination. The dye is naturally rinsed out of the eye by tears.
The subsequent test may involve placing drops in the eye in order to dilate the pupils. The drops take about 15 to 20 minutes to work, after which the slit lamp examination is repeated, allowing the back of the eye to be examined. Patients will experience some light sensitivity for a few hours after this exam , and the dilating drops may also cause increased pressure in the eye, leading to nausea and pain; although this is very rare, patients experiencing these symtoms are advised to immediately seek medical attention.
Adults need no special preparation for the test, however children may need some preparation, depending on age, interests, previous experiences, and level of trust.
The exam may detect many diseases of the eye, including:
* Cataract
* Corneal injury
* Fuchs' dystrophy
* Keratoconus
* Macular degeneration
* Presbyopia
* Retinal detachment
* Retinal vessel occlusion
* Retinitis pigmentosa
* Sjogren syndrome
* Uveitis
Please click on the link with the product you are interested or subscribe to our newsletter to receive special promotions.
---

---
We accept all major credit cards
Phone: (305) 781 3117
Optivision2020, Inc. and Integral Medical Solutions Inc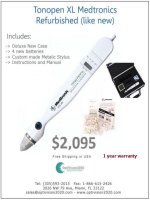 Refurbished Tonopen
Click to Zoom!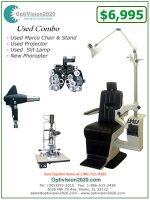 Used Marco combo
90 days warranty
Contact us Now