Sonomed 300A PacScan A-Scan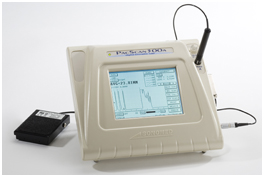 The A-Scan Sonomed 300A Pacscan offers a portable, digital A-scan, with easy-to-use touch screen operation, extreme accuracy, repeatable measurements and reliability. The combination of a high frequency, low noise probe and fast precise algorithms enables scan capture immediately upon application of the probe along the visual axis.
The A-Scan Sonomed 300A PacScan Built-in immersion capabilities and up to eight IOL formulas, including two post-refractive formulas. Axial length, ACD, and lens thickness are provided for each scan. Group up to five scans with average axial length and standard deviation automatically calculated. Easily review each scan, delete outlying scans, and add new scans, as desired. Customizable tissue velocities of each structure and highly-developed automatic scan recognition algorithms ensure accurate and repeatable measures. Built-in calibration check ensures continued accuracy of system.
Features for A-Scan Sonomed 300A PacScan
- Touch screen operation with large backlit display
- Complete measurement and calculation record within seconds
- Ability to store up to five different user profiles
- Portable and compact weighing less than 6 pounds (3 kg)
- Fully adjustable tilt for ergonomic comfort
- Optional printer
The A-Scan Sonomed 300A PacScan series offers extreme portability, weighing less than 6 lbs (3 kg), and comes with optional padded carrying case. Optional printer allows for hardcopy record of scans and IOL calculations. Data download and scan viewer software option also available to create permanent digital archive of scan results and data.
The A-Scan Sonomed PacScan 300A Two probe styles are available - standard or soft-touch - depending upon user preference and scanning application. Built-in immersion scanning capabilities is provided with optional Prager shell for ease of use and the highest assurance of accuracy and repeatability.

Contact us for Price
If you need more information regarding the
A-Scan Sonomed Pacscan 300A
please fill the form and specify the model in the Comments Field.
*Only non-USA orders
Are you done with the A-Scan Sonomed 300A? Go to A-Scan page.

---
We accept all major credit cards
Phone: (305) 781 3117
Optivision2020, Inc. and Integral Medical Solutions Inc