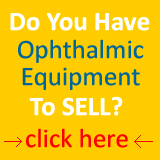 Phoropter
(Please scroll down for our products)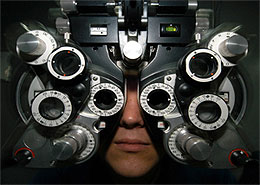 The phoropter is an instrument commonly used by optometrists and ophthalmologists during an eye examination to determine an individual's eyeglass prescription. Typically, the patient sits behind the phoropter, and looks through it at an eye chart. This eye chart can be at optical infinity (6 meters), or at near (40 centimeters) for individuals needing reading glasses. The optometrist then changes lenses and other settings, while asking the patient for subjective feedback on which settings gave the best vision. Sometimes a retinoscope or an automated refractor is used to provide initial settings for the equipment
This equipment can also measure phorias (natural resting position of the eyes), accommodative amplitudes, accommodative leads/lags, accommodative posture, horizontal and vertical vergences, and more.
The major components of this equipment are the JCC (Jackson Cross-Cylinder) used for astigmatism correction, Risley prisms to measure phorias and vergences, and the (+), (-), and cylinder lenses.
---

---
We accept all major credit cards
Phone: (305) 781 3117
Optivision2020, Inc. and Integral Medical Solutions Inc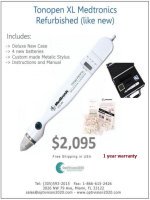 Refurbished Tonopen
Click to Zoom!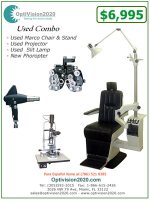 Used Marco combo
90 days warranty
Contact us Now