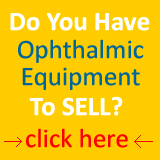 Since 2003 Optivision2020 have been marketing optometry and ophthalmic equipment from known brands like Marco, Topcon, Haag Streit, Accutome, Welch Allyn, Ocular, Oculus, Reichert, and many others. We are dedicated to selling quality ophthalmic equipment and instruments, as well as service, setup, repair, and cleaning of equipments.
Located in Miami, we sell autorefractors, chairs and stand, chart projectors, diagnostic lenses, prisms, keratometers, automatic and manual lensmeters, pachymeters, pd meters, a-scan, b-scan, manual phoroters and automatic, slit lamps and hand held slit lamps, surgical and optical instruments, tonometers, pascal tonometers and trial lens sets, accura, patternless edgers.
We also have in stock refurbished and used ophthalmic equipment. Contact us for more information. Every used optical equipment we sell is tested and calibrated, and will go with a 90 days full warranty.
Click on pictures to ZOOM
Price $2,995

Used Reichert Xcell 255
w /tonometer
90 days warranty

Price $1,795

Used Mentor
Tono-Pen
90 days warranty

Price $14,995

Used Zeiss OCT Stratus 3000
180 Day Warranty

Price: $4,795

Used Topcon Autorefractor w/Keratometer KR 8000
90 days warranty

Price: $4,395

Used Topcon CT-80
90 days warranty

Price: $7,495

Used Zeiss Visual Field 745
90 days warranty


New Equipment - Promotions
Top Sellers
Call us now: 305.593.2015

---
Visit our most popular pages listed below...
Find used Ophthalmic equipment in excellent condition and price.
Autorefractor, autorefractor keratometer, topographer
Find ultrasound A-Scan models with specs and prices.
Find here the latest B-Scan models with specs and prices.
Chairs and stands for ophthalmology and optometry.
Manual and Automatic Chart Projectors.
Human Eye Models for teachers and professionals.
Manual Keratometers
Automatic and Manual Lensmeters
Great products to check thickness of the eye's cornea.
Manual Phoropters.
Find here the latest slit lamps models with specs and prices.
Find here trial lens set and trial frames
Applanation and Portable Tonometers.
Ophthalmoscope, Retinoscope, Battery and Bulb.
Lamparas de hendidura, Autorefractor, Keratometros, Lensometros, A-Scan, B-Scan, Proyectores, equipos para optometria, Opticas.

---
We accept all major credit cards
Phone: (305) 593 - 2015
Fax: 1.866.615.2426
Optivision2020, Inc.
3026 NW 79 AVE.
Miami, Florida 33122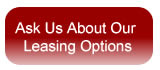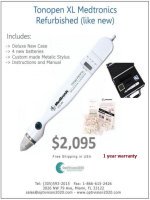 Refurbished Tonopen
Click to Zoom!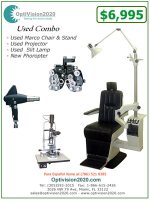 Used Marco combo
90 days warranty
Contact us Now