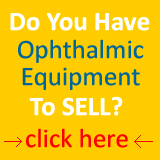 Since 2003 Optivision2020 have been marketing products used in the ophthalmology and optometry field. From known brands like Marco, Topcon, Haag Streit, Accutome, Welch Allyn, Ocular, Oculus, Reichert, and many others. We are dedicated to selling quality ophthalmic equipment, as well as service, setup, repair, and cleaning of equipments.
In Miami, we sell autorefractors, chairs and stand, chart projectors, diagnostic lenses, prisms, keratometers, automatic and manual lensmeters, pachymeters, pd meters, a-scan, b-scan, manual phoroters and automatic, slit lamps and hand held slit lamps, surgical and optical instruments, tonometers, pascal tonometers and trial lens sets, accura, patternless edgers.
We also have in stock refurbished and used ophthalmic equipment. Contact us for more information. Every used optical equipment we sell is tested and calibrated, and will go with a 90 days full warranty.
We will Setup your office
At Optivision2020 we are always ready to provide additional information regarding all our equipments. We offer ophthalmic instruments for Ophthalmologist, Optometrists, Hospitals and schools at great prices. We know each customer is different and we are prepared to suggest the best equipment to custom fit your needs. Our company is up to date on all the latest technologies and equipments so you can have all the facts and make an intelligent decision at the moment of your purchase.
If your office is local within Florida, we can setup and install all your equipment at your office. Our company has its own technician and can perform equipment repairs as well.
Our website...
is always updated with the latest used and new ophthalmic equipment . We always over deliver with additional information, excellent pictures, and specifications for each of our products. If you need a used or new ophthalmic equipment that we don't have listed, please don't hesitate to contact us.
Periodically we send equipment promotions to our customers. In our newsletter we provide special promotions, new products, and important announcements for doctors and optometrists. To receive our newsletter, please subscribe using the form below.
---
Visit our most popular pages listed below...
Find used Ophthalmic equipment in excellent condition and price.
Autorefractor, autorefractor keratometer, topographer
Find ultrasound A-Scan models with specs and prices.
Find here the latest B-Scan models with specs and prices.
Chairs and stands for ophthalmology and optometry.
Manual and Automatic Chart Projectors.
Human Eye Models for teachers and professionals.
Manual Keratometers
Automatic and Manual Lensmeters
Great products to check thickness of the eye's cornea.
Manual Phoropters.
Find here the latest slit lamps models with specs and prices.
Find here trial lens set and trial frames
Applanation and Portable Tonometers.
Ophthalmoscope, Retinoscope, Battery and Bulb.
Lamparas de hendidura, Autorefractor, Keratometros, Lensometros, a-scan, b-scan, Proyectores, equipos para optometria, opticas.

---
We accept all major credit cards
Phone: (305) 781 3117
Optivision2020, Inc. and Integral Medical Solutions Inc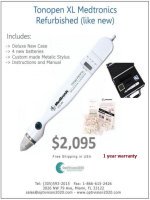 Refurbished Tonopen
Click to Zoom!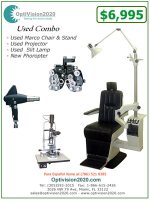 Used Marco combo
90 days warranty
Contact us Now