B-Scan Tomey UD1000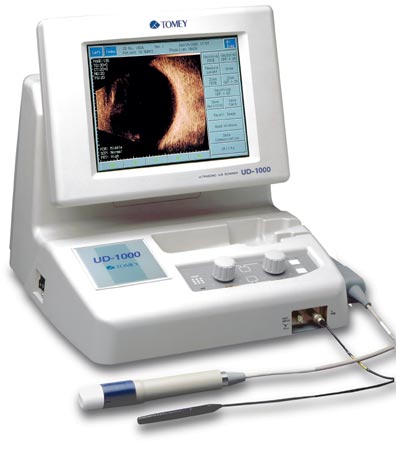 The B-Scan Tomey UD1000 incorporates the latest ultrasound technology for eyecare specialists. It is the ideal choice for the modern diagnostic laboratory. The UD-1000 provides B-Scan diagnosis, B-Scan axial length approximation and an optional A-Scan diagnostic function.
The Dynamic Multi-Focus System scans near, middle and far points, compared to ordinary single focus systems that scan at one fixed distance providing only images of a single location. The B-Scan tomey UD1000 have a Multi-Focus probe delivers detailed images of all ocular locations (near, middle and far) at one time.
The B-Scan Tomey UD1000 automatically saves up to the last 20 seconds of data acquisition as a video file. The images can be recalled individually or played back in video sequence. The images may also be printed using the optional video printer and/or transferred to a computer. Patient data and images can be stored on the optional Memory Card. The touch screen operation is quick and intuitive, allowing you to easily change parameters, select options, and switch between save and play back the video images. Even the distance and area measurements are only a single touch away!
Specifications for B-Scan tomey UD1000

- Measurement Ranges
* Probe BIO frequency: 10MHz and optional 20MHz
* Probe A-diag frequency: 10MHz
* B-Scan picture: Vector based
- Image Adjustment
* Total gain: 1-60dB
* Near gain: 1-40dB
* Far gain: 1-40dB
- Image Display Range
* Sector angle: 46.4 deg
* Depth: 34.10mm
* Vector A: 117 lines, 460 points
- Gray Scales: 256
- Zoom: move function
- Measurement Accuracy: +/- 0.1 mm
- Monitor: 10.4 inches color LCD
- Recording: Video outlet, RS-232 Interface
- Dimensions (H x W x D): 13.6in x 14.2in x 16.8in (346mm x 360mm x 427mm)
- Weight: 14 kg (31 lbs)
- Power Supply: AC 100-240V, 50/60 Hz, 50 VA
If you need more information regarding the
B-Scan Tomey UD1000
please fill the form and specify the model in the Comments Field.

*only non-USA orders
Are you done with the B-Scan Tomey UD1000? Go to B-Scan.

---
We accept all major credit cards
Phone: (305) 781 3117
Optivision2020, Inc. and Integral Medical Solutions Inc