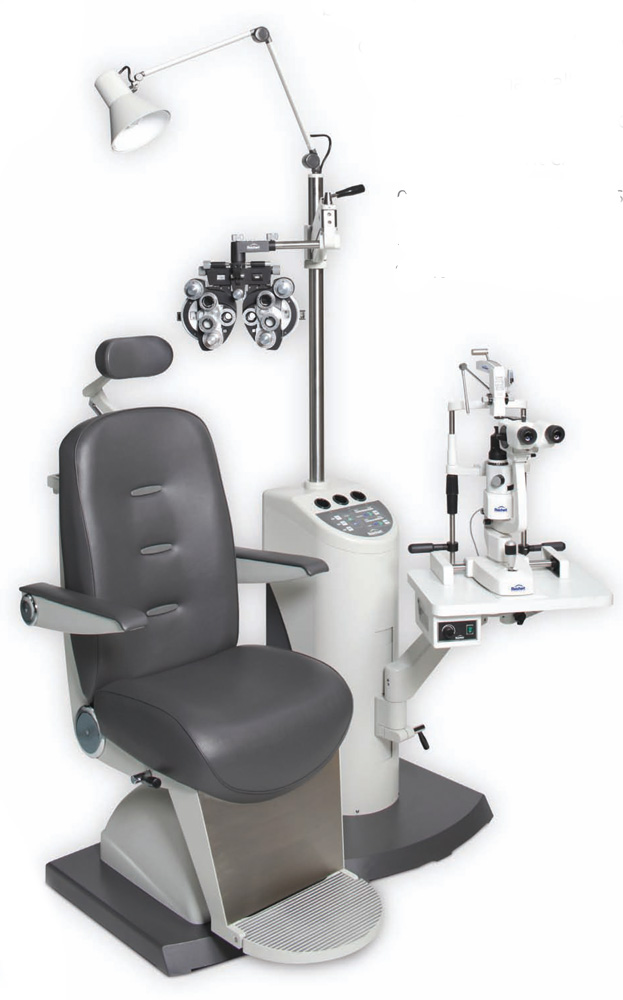 The Reichert® Advantage Plus Chair & Stand brings style and comfort to the center of your lane. The fully featured components have all of the functions needed to efficiently conduct patient exams. The durable and reliable design will provide years of dependable
service at an affordable price.
Advantage Plus Chair:
The Advantage Plus manual recline chair meets the needs of the eye care professional who demands the very best in patient comfort and ease of use.
The chair back, with pneumatic assist, makes reclining the patient virtually effortless – even with one hand. For added patient comfort and ease of access, the Advantage Chair has fully upholstered arm rests that easily rotate upward.
A large positive locking headrest supports the patient comfortably throughout the recline range. The large footrest provides support when seated, and when entering and exiting the chair.
Advantage Plus Chair features-at-a-grance:
• Full manual recline chair
• Chair back with pneumatic assist for easy recline
• Large positive locking head rest
• Chair elevation can be controlled with the footswitch, from the stand control console, or from the lower instrument arm
• Full 360 degree rotation – 270 degrees at lowest position
• Full stainless steel kick plate for added durability• Virtually silent hydraulic lift system for smooth,
effortless chair elevation
• Durable, easy-to-clean upholstery
• Versatile color scheme complements any practice
• Upholstered arm rests that rotate upward
Advantage Plus Stand:
The Advantage Plus Stand provides a stable and durable platform for effective lane organization. When used with the Advantage Plus Chair, its ergonomic design assures easy access to both your patient and your instruments without compromising floor space. The Advantage Plus Stand comes fully equipped with an overhead lamp, fully counterbalanced refractor arm, and a lower instrument arm, which incorporates a vertical motion lock system for simple one-handed instrument positioning. Additionally, the Advantage Plus Stand includes an easy to use, multi-function control console which ensures efficient control of all your lane operations:
• Chair elevation control
• Overhead lamp power and brightness
• Corded (BIO) instrument power and voltage selector
• Advantage Plus Stand power, including control of the lower instrument arm, projector and one additional accessory device
• Three rechargeable instrument wells with charge indicators
• Counterbalanced standard lower instrument arm or wheelchair access arm
• Optional keratometer arm