Human Eye Model Hanscom
# 15148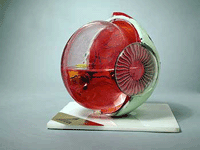 The Human Eye Model Hanscom is a new model to assist the ophthalmic practitioner in educating patients about intraocular gas used in retinal surgery.
This realistic, brightly colored model of the human eye demonstrates a 50% gas bubble. Movement of the intraocular gas can be simulated by tilting the model. This helps the ophthalmic practitioner explain to the patient the function of the intraocular gas. Positioning instructions can be demonstrated with the model, improving patient compliance.
The human Eye Model Hanscom also shows a cross section of the eye in three layers; the retina, choroid, the sclera with veins and arteries interior and exterior, including central retinal. It is made of plastic, measures six (6) inches in diameter, and is mounted on a black, sturdy, opaque plastic base.
It is realistically colored and textured and the cornea, optic nerve, and insertion of muscle are shown.
The human Eye Model Hanscomprovides the opportunity to ease patient uncertainty. Quick and easy to use, this unique model will save the doctor or technician time
Price for Human Eye Model Hanscom
Are you done with the Human eye model hanscom ? Go to Eye Models.

---
We accept all major credit cards
Phone: (305) 781 3117
Optivision2020, Inc. and Integral Medical Solutions Inc