Human Eye Model Intra Ocular Lens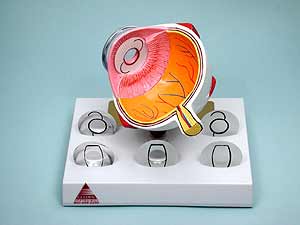 The IOL Eye Model dramatically demonstrates how vision is re-gained after removal of a cataract. The six (6) inter-changeable lenses simulate IOL and Toric implants of clear posterior capsule, cloudy capsule, and post YAG posterior capsulotomy.
Many patients find current explanations about their vision loss and the outcome of IOL or Toric surgery difficult to understand and are apprehensive about surgical procedures they do not comprehend.
The model provides the opportunity to ease patient uncertainty with a demonstration. Quick and easy to use, this unique IOL Eye Model will save time for the doctor or technician.
The model also shows a cross section of the eye in three layers; the retina, choroid, and sclera with veins and arteries, including central retinal. It is made of plastic, measures 3 3/4 inches in diameter, and is mounted on a white, opaque plastic base. It is realistically colored and textured and the cornea, optic nerve, and insertion of muscle are shown.
The six (6) lenses are available separately and are completely compatible with the Gulden Cataract Eye Model and the Merck Eye Model.
Price for Human Eye Model Intra Ocular Lens
If you need more information regarding the
Human Eye Model Intra Ocular Lens
please fill the form and specify the Model Intra Ocular Lens in the Comments Field.
Are you done with the Human eye model Intra ocular lens ? Go to Eye Model.

---
We accept all major credit cards
Phone: (305) 781 3117
Optivision2020, Inc. and Integral Medical Solutions Inc