Human Eye Model Standard
# 15152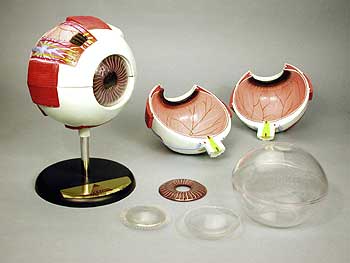 A new human eye model Standard to assist the ophthalmic professional in educating patients in the anatomy of the human eye.
This realistic, brightly colored model of the human eye demonstrates the parts and features of a human eye. This allows the ophthalmic practitioner to explain and discuss any eye related issues with their patients
The human eye model Standard also shows a cross section of the eye in three layers; the retina, choroid, the sclera with veins and arteries, interior and exterior, including central retinal. It is made of plastic, measures six (6) inches in diameter, and is mounted on a black, sturdy, opaque, plastic base.
It is realistically colored and textured and the cornea, optic nerve, and insertion of muscle are shown in the human eye model Standard.
Easily taken apart, the inside parts and functions of internal parts of the human eye are readily explained.
The Human eye model Standard provides the opportunity to ease patient uncertainty. Quick and easy to use, this unique model will save the doctor or technician time.

If you need more information regarding the
Human Eye Model Standard
please fill the form and specify the model in the Comments Field.
Are you done with the Human Eye model standard ? Go to human eye model.

---
We accept all major credit cards
Phone: (305) 781 3117
Optivision2020, Inc. and Integral Medical Solutions Inc