Lensmeter Topcon LMS1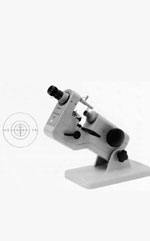 The lensmeter Topcon LMS1 have a corona target and superior optical system assure excellent measuring accuracy; the external dial shows measurement values precisely.
The Lensmeter Topcon LMS1 is particularly easy to use, since the adjustable viewing angle allows comfortable positioning. Lens marking is performed with one-touch simplicity.
The high quality lensmeter topcon LM S1 operates on either AC power or batteries.
Features for lensmeter Topcon LM S1
Very simple, speedy measurements
Simple and speedy operations are possible.
This because the corona target is suitable for a wide range measurements as well as showing the axis of the cylinder lens easily.
Very large measuring capacity
Very large lens table permits lenses from 30mm to 90mm in diameter to be measured.
LED light source
Light source with an almost endless life time.
Power sources in the lensmeter topcon LM S1
Dry batteries or Ni-Cd rechargable batteries.
Less power consumption with auto shut-off
Approximately 160 hours operation is possible continuously with normal dry batteries and automatic shut-off function provided.
Freely adjustable instrument tilt
The lensmeter Topcon LM S1 is freely tiltable to any angle between 0 to 90 degrees, as required by the operator.

Price for lensmeter Topcon LM S1

If you need more information regarding the
lensmeter lensmeter LM S1
please fill the form and specify the model in the Comments Field.
Are you done with the lensmeter topcon lm s1 ? Go to lensmeter.

---
We accept all major credit cards
Phone: (305) 781 3117
Optivision2020, Inc. and Integral Medical Solutions Inc