NCT Topcon CT-80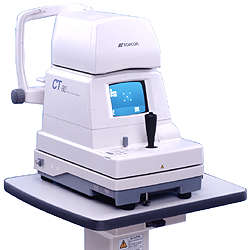 Dual sensor system assures high-level measurement of intraocular pressure in the NCT Topcon
Dual Sensor System TOPCON Accurate Measuring System
The NCT Topcon CT-80 takes its original measurement method using two sensors; one for light and one for pressure.When the air puff applanates the cornea a light sensor detects the applanation moment, while at the same time another sensor monitors the internal chamber to obtain the intraocular pressure.

Triple Safety Function A Focus on Safety
The NCT Topcon CT-80 features an innovative triple safety function. First, an adjustable safety stopper may be set by the operator.Second, a "too close" display on the monitor guides the user in alignment. Third, an audible warning buzzer informs the operator if the cornea and the instrument are too close.

30% Faster Interval Time - Fast and Easy Measurements
The NCT Topcon CT-80 provides easier and faster operation with the aid of a new alignment bar and an improved air cylinder. The interval between measurements has been reduced by over 30%, so that patients may be examined more comfortably in a shorter period of time. Once the alignment has been completed, the resulting data are automatically measured and displayed.

Built-in Self Check Function
The NCT Topcon CT-80 lets the operator know in advance when maintenance is needed. It displays a warning message on the monitor when a lens is dirty, and also which lens it is (the measurement glass or the chamber glass).

Contact us for Price

If you need more information regarding the
NCT Topcon CT-80
please fill the form and specify the model in the Comments Field.
Are you done with the NCT Topcon tonometer? Go to Tonometers

---
We accept all major credit cards
Phone: (305) 781 3117
Optivision2020, Inc. and Integral Medical Solutions Inc