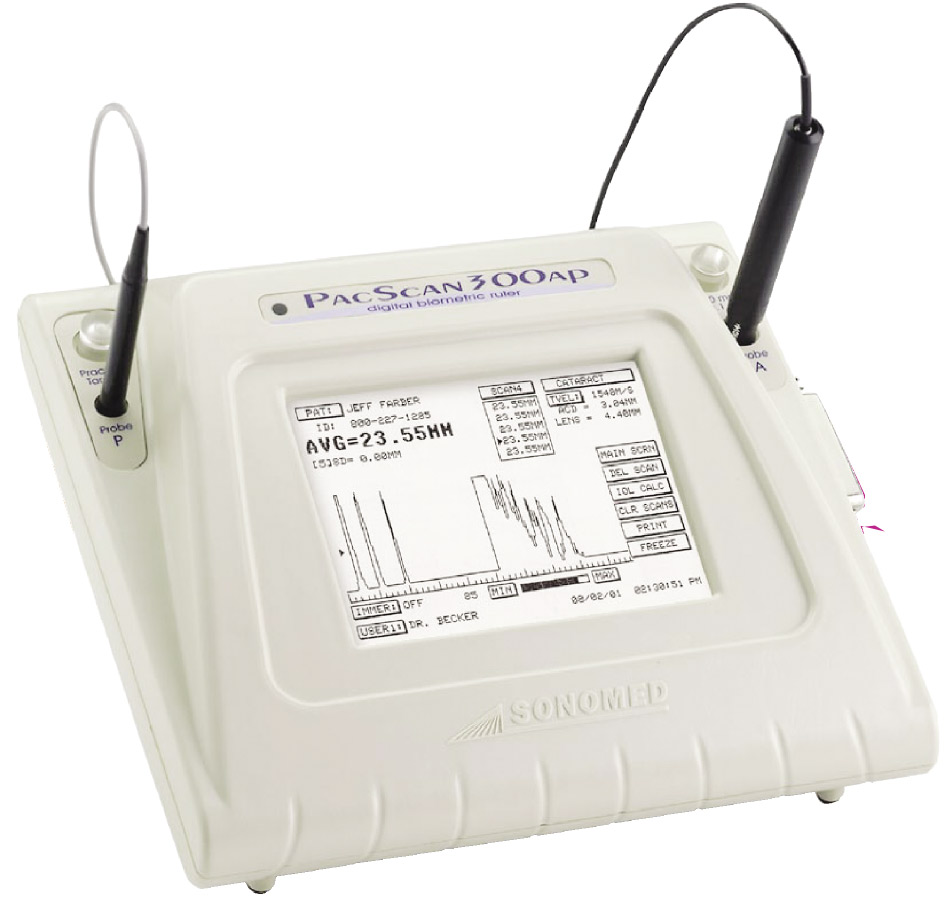 The Pachymeter Sonomed 300p offers a portable, digital pachymeter, with easy-to-use touch screen operation, extreme accuracy, repeatable measurements and reliability. The combination of a high frequency, low noise probe and fast precise algorithms enables automatic scan capture immediately upon steady application of the probe onto the cornea.
Measurement accuracy and repeatability are assured by each scan actually consisting of 256 individual measurements and an automatic measurement algorithm to ensure that only scans with proper probe alignment are accepted. The high probe frequency and processing algorithms enable measures as thin as 125 microns, for measuring corneal flap or bed, and multiple corneal maps are available. Also comes standard with central corneal thickness correction calculator for measured applanation IOP.

Touch screen operation with large backlit display
Complete measurement and calculation record within seconds
Ability to store up to five different user profiles
Portable and compact weighing less than 6 pounds (3 kg)
Fully adjustable tilt for ergonomic comfort
Optional printer
Two probe styles are available, depending upon user preference and scanning application, a 45 degree angled probe for when patient is in supine position and a straight probe for when patient is in sitting position. Built-in probe sensitivity test and calibration check ensures continued accuracy of system.
The Pachymeter Sonomed 300p series offers extreme portability, weighing less than 6 lbs (3 kg), and comes with optional padded carrying case. Optional printer allows for hardcopy record of corneal thickness measurements. Data download and scan viewer software option also available to create permanent digital archive of scan results.