Prism Set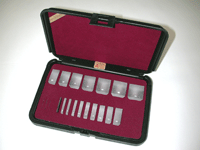 Gulden's plastic ophthalmic prism set have been re-engineered to solve the problem of birefringence which can hinder their use in certain clinical applications. Our exclusive manufacturing process greatly reduces optical strain, producing prisms that virtually eliminate clinical birefringent effects.
Prism birefringence can adversely affect your vectographic testing by degrading target contrast ("image washout"), or in extreme cases, by reversing the eye that sees the target ("vectographic reversal"). Birefringence occurs in ordinary prisms because of optical strain which is due to minute molecular misalignments that occur in plastic manufacturing.
Our prisms set are calibrated in the frontal plane position (i.e., posterior surface parallel to spectacle plane) which produces superior diopter accuracy. Prisms are available in our standard square shape (37 X 37 mm), or in our internationally popular "universal" shape which has two rounded corners for ease of use at various angles.
Either shape can be ordered as single prisms, in custom sets or in a choice of seven standard sets of square or universal prisms.
Prism Sets

Prism Set
S-16

$145

Prism Set
S-22

$198
Are you done with the Prism Set ? Go to Home Page

---
We accept all major credit cards
Phone: (305) 781 3117
Optivision2020, Inc. and Integral Medical Solutions Inc

---
We accept all major credit cards
Phone: (305) 781 3117
Optivision2020, Inc. and Integral Medical Solutions Inc