Slit Lamp Haag Streit BM 900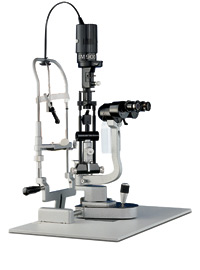 The Slit Lamp Haag streit BM 900 is the "classic" slit lamp for the eye care professional concerned with both the anterior and posterior segments.
A convergent, stereoscopic microscope offering short observer to patient distances and "workhorse" 10x and 16x magnifications
PD and optical correction are both finely adjustable to give easy viewing with none of the eye fatigue so often associated with use of the slit lamp.
Cross Slide Mechanism.
The Cross Slide Mechanism incorporated into all Haag –Streit slit lamps, has both vertical and horizontal movements controlled by our patented joystick.
Perfection in design, materials and construction allow these movements to be made smoothly and effortlessly without any wrist or finger strain – and will continue to do so for the long lifetime of this classic slit lamp.
Illumination System
The illumination system has the brightest (600,000 Lux) illumination available in a slit lamp providing a tilting, rotating slit up to 8 mm in length and width. Tilting is extremely important to good posterior segment observation.
All filter and slit controls are conveniently situated for ease of use and, as with the cross slide mechanism, have silky smooth, effortless movement. The slit mechanism, on those "differences inside", is a masterpiece of engineering in itself, affording faultless precision in both shape and movement.

Just for International sell
If you need more information regarding the
Slit Lamp Haag Streit BM 900
please fill the form and specify the model in the Comments Field.
Are you done with the Slit Lamp Haag Streit BM 900? Go to Slit Lamp Home.

---
We accept all major credit cards
Phone: (305) 781 3117
Optivision2020, Inc. and Integral Medical Solutions Inc