Kowa is pleased to introduce the Handheld Slit Lamp Kowa SL-15 with Microscope. With its bright, even illumination and powerful, high-quality optics, it excels as both a console and portable unit. This compact, hand-held, microscope uses a rechargeable power source making it ideal for usage anytime, anywhere.
The Kowa SL-15 Portable Slit-Lamp Microscope is cordless; it carries its power-a compact lithium-ion battery-on board. A companion base station charges the Handheld Slit Lamp Kowa SL-15 Microscope when docked; it also can charge an extra lithium-ion battery simultaneously, allowing for virtually uninterrupted usage of the unit. A single charge provides a generous 40 minutes of illumination.
The Handheld Slit Lamp Kowa SL-15 Microscope is compact (8.7"W x 4.2"D x 8.4"H) and lightweight (under 28 ounces). With its sculpted grip, housing the unit's trigger-style light-switch, it makes examinations easy and comfortable. This ideal microscope features an extra-bright 15-watt halogen light source, with a built-in cobalt blue filter. Magnifications of 10x and 16x are available via quick, one-touch selection. And slit width can be selected to 0.1mm, 0.2mm, 0.8mm, or 12mm spot. With the optional C-mount adapter, the Handheld Slit Lamp Kowa SL-15 Microscope also supports digital video.
Other available options include a headrest, carrying trunk case, and extra lithium-ion battery packs.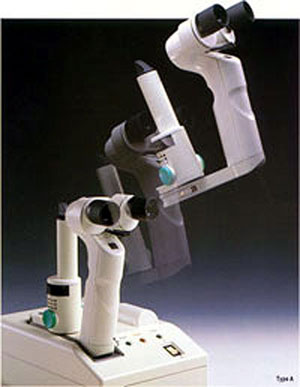 Features of Handheld Slit Lamp Kowa SL-15
1. Rechargeable, cordless power supply for slit-lamp examination anywhere.
2. Compact and lightweight, the examiner can hand hold the unit over a long period with minimal fatigue.
3. Light switch is turned on when the examiner grasps the slit-lamp.
4. Extra-bright halogen lamp light source.
5. Easy, simple selection of one of three slit widths or spot illumination.
6. Quick, one-touch selection of 6x or 10x magnification.
7. Built-in blue filter.
8. Stand doubles as a battery recharger.
9. Power supply stand will accommodate recharging of both the slit-lamp and optional extra rechargeable battery.
10. When both the slit lamp and battery are mounted simultaneously the slit-lamp will have charging priority.