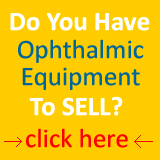 Used Indirect Ophthalmoscope All Pupil
US$695*

Just cleaned, serviced, calibrated and tested. With 90 day parts and labor warranty.

If you need more pictures send us an email to [email protected] or give us a call at (305) 593-2015.
*shipping not included

---
We accept all major credit cards
Phone: (305) 593 - 2015
Fax: 1.866.615.2426
Optivision2020, Inc.
3026 NW 79 AVE.
Miami, Florida 33122